Our GCX Fetal Monitoring Workstation Designed with L&D Workflows in Mind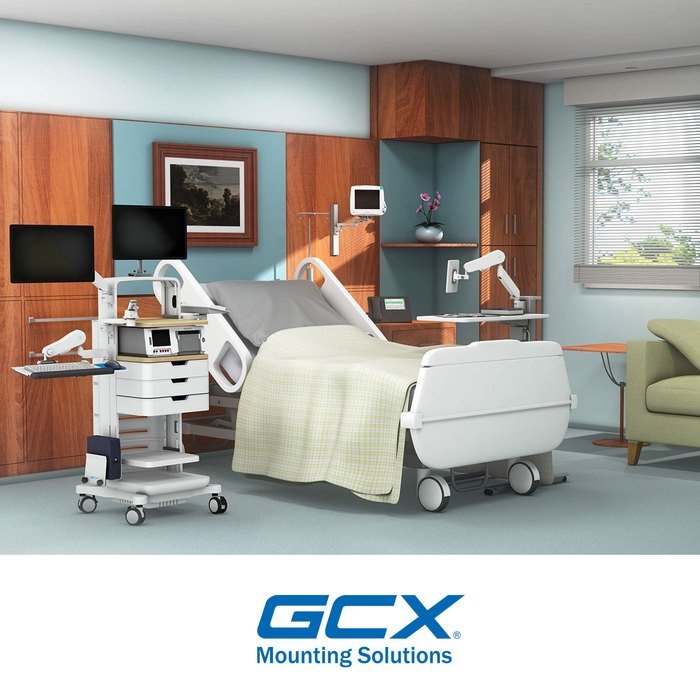 Clinicians know the importance of workflow, whether it's to care for patients more effectively or to quickly respond to emergencies where seconds count. This is also true for those who work in a hospital's labor and deliver (L&D) unit where the health of both mother and child are simultaneously monitored.
A San Francisco Bay area hospital's L&D department presented us with a challenge: capture all of their bedside technology on a single cart. Rather than having an old wooden workstation holding the fetal monitor, bolted-on mounts for a secondary display, storage space for related supplies and yet another large cart to hold EMR hardware, the clinicians wanted us to fit everything in one unit, creating a smaller tech footprint while providing some ergonomic flexibility.
The result is our brand new GCX Fetal Monitoring Workstation that officially launched this month.
In the course of delivering a solution that consolidates IT equipment while improving its accessibility, we observed a number of interesting workflow challenges at various hospitals. "Workflow" conversations often revolve around software or device use models, but there are important implications for hardware as well. A few insights we've taken to heart:
Mobility is paramount. When a delivery gets complicated, the hardware at the bedside needs to get out of the way immediately.
Device height matters. A secondary flat screen showing monitoring data needs to be viewable by a doctor at the foot of the bed, who is looking over at least mom, and perhaps around clinicians or other family members. That means the screen needs to be at least head height. The fetal monitor is ideally positioned at the height of a nurse's chest, so that she can place transducers or read the printout without bending over.
EMR usage varies. In some hospitals, the computer is not used for much more than registering the patient. In this case, it needs to be accessed quickly and then stowed as out of the way as possible. Perhaps more notes are taken on paper, and a standing-height work surface is useful. In other hospitals, charting is done on the computer every time the nurse enters the room to check on the patient. In this case, the computer needs to be in a more immediately accessible location, and the ability to accommodate a variety of sitting or standing use positions is a must.
Expanded storage capacity is needed. When we asked L&D folks how much storage did they need, the typical reply was, "More!" That response should come with some qualifiers. There is a set of supplies and ancillary devices specific to fetal monitoring, which should be stored, ideally high on the cart, directly below the fetal monitor. In the interest of finding the right thing quickly, and making inventory and re-supply efficient, you should not have to dig through a deep drawer, meaning the storage should be as wide and shallow as practical.
One size does not fit all. We humans are wired to personalize our environments. Sometimes we rearrange all the furniture in the family room just because we feel like it. This can extend to configuring our work areas as well. While it's great if a manufacturer can customize a workstation to your liking, it is much better if you are able to easily reconfigure it months down the road as you discover what really works best with your workflow. How then, do solution providers enable that flexibility?
Consider cleaning. As we face the financial and human impact of hospital-acquired infections (HAIs), cleaning of equipment has become a critical and time-consuming task for hospital personnel. The more equipment and cables are enclosed, the easier that cleaning task will be. The chemicals being used are also aggressive, and a '70s-looking wooden cabinet is simply not going to hold up over time. We have seen instances of JCAHO seriously questioning a hospital's ability to clean a wood cart where the finish has deteriorated.
Granted, aesthetics admittedly isn't a workflow consideration. But hospitals are going to great lengths (and expense) to make their L&D departments attractive to new families. Room design must strike the right balance between looking like a human-centered, "homey" environment, and also communicate professionalism and technical competence. The technology at the bedside must somehow support this objective, and, looking forward, do so with minimal use of wood surfaces to reduce infection control challenges.
Innovation is a bedrock of the GCX community, and a major part of our design, engineering and manufacturing process is talking to those who most benefit from a GCX solution. The GCX Fetal Monitoring Workstation is just the latest innovation in medical and IT equipment mounting solutions that make a difference in the lives of clinicians, patients and providers we serve.