Reaching the Tipping Point with Anesthesia Workstations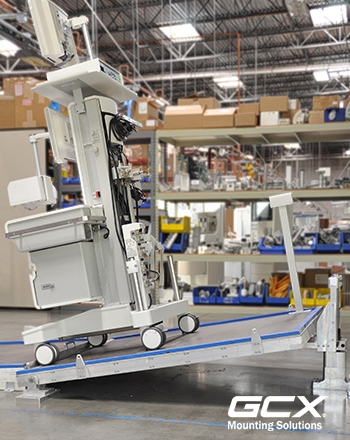 One of our most popular requests when a hospital plans to buy or upgrade equipment on an anesthesia workstation is to conduct stability testing. It's a service we can provide for all of our solutions, but it is especially important for those in operating rooms. An anesthesia machine typically has several other solutions mounted to it- patient monitors, medical devices, keyboards and other essential equipment that must be accessible to the Anesthesiologist in both a sitting and standing position. Each additional solution increases the overall tip hazard of the machine – potentially putting the patient at risk. Through our stability testing service, we can put your mind at ease by certifying your solution is compliant and safe for use.
GCX has almost every common anesthesia machine and patient monitor manufactured in the last 30 years available on-site, and can therefore set up a very accurate test configuration in our Petaluma, CA, facility. Additionally, we can conduct stability testing and validation for any new patient monitor or medical device released from one of our partners. All a customer has to do is take a photo of their desired setup, or outline all equipment they plan on using, and we'll mimic the exact setup in our facility and test per the IEC 60601-1 standard.
Stability testing helps hospitals make the right investments when planning EMR and computer hardware implementations. By testing a uniquely configured workstation in our test environment, healthcare organization leaders know their equipment will work with a specific solution before they make the purchase. That's why we frequently conduct stability tests based on sales quotes or anticipated equipment upgrades. If we know exactly what's being mounted and where, we can evaluate how the mockup will fare in a healthcare setting, not just with hypotheticals or standard usage. It's one of the ways we add value to a GCX purchase and differentiate ourselves in the medical marketplace. We want to propose a safe solution, therefore, if we run into issues with stability for a specific configuration, we will use our expertise in this space to propose an alternative solution that will work for a facility's operating room.
So, what happens during a typical stability test? After receiving all required information, we mimic a setup with actual medical devices and mocked up IT displays and keyboards arranged as requested. We test each configuration per the IEC 60601-1 3rd Edition testing standard, which is a test we perform to verify the stability and mechanical safety of GCX mounting hardware. The workstation is put on a ramp and we perform testing procedures outlined in the standard including: instability, rough handling, movement over a threshold and more. If a proposed configuration does not pass this test, we can test in transport position or adjust equipment mounting locations or lengths of GCX arms/mounts, do additional testing and offer recommendations.
Once completed, we can provide the hospital a testing document showing valid test results for a safe configuration based on their mounting needs.
These stability tests take one to four interrupted hours to perform, which makes it a significant effort on our part, but we're gladly able to support this testing because it's the right thing to do for our customers and prospective buyers. Stability tests and validations prevent potential injuries and ensure optimal performance throughout the GCX product lifecycle.