Exploring a Higher Level of Patient Experience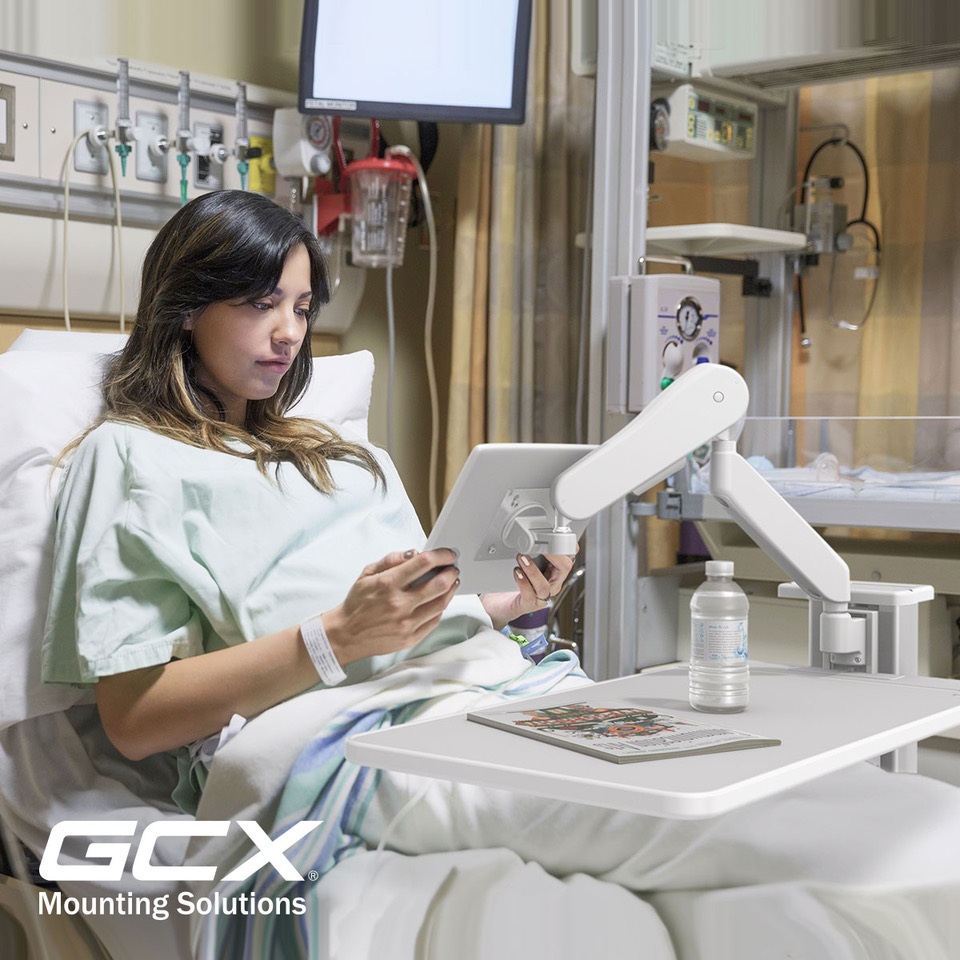 In a Richmond, Va., hospital's ICU, tetraplegics unable to move by themselves are communicating and staying connected to the outside world by controlling an overhead laptop's cursor using their eye instead of a mouse.
Elsewhere, a new mother is opening up a web portal on a tablet to watch her newborn via live video feed from the NICU. And San Francisco pediatric patients are finding their hospitalizations a little less scary and confusing, thanks to tablets loaded with education and entertainment apps that they can easily access from their beds.
Medical centers all over the country and abroad are exploring how mobile computers can help some of their more vulnerable patient populations stay informed, connected and engaged in their care plans.
For most organizations this is new territory. Safely and securely incorporating this technology into patient areas has its own significant learning curve.
Since last fall, GCX engineers and field experts have been a part of several important initiatives to put mobile devices into patients' hands while they are in clinical settings. This is, of course, only a small component of an overall patient experience strategy, but it's a significant one for a number of hospitals wanting to better inform, connect and thereby empower their patients.
These efforts raise a host of implementation questions:
Does the hospital provide the hardware or follow a BYOD strategy?
Which operating system is best: Windows? iOS? Android?
How do we clear data from the tablet and start over when a new patient is admitted?
How do we charge these devices in near-constant use?
What kind of wireless capacity is needed, and can our network handle it?
How do you position the tablet so a patient can use it comfortably and safely?
How will patients react, and are there certain subsets of patients with different needs?
What kind of help desk or organizational support do we need to have in place?
Innovation is about learning, and the best way to innovate in uncharted territory is to start simply. Whether you're applying Lean Startup concepts in an entrepreneurial setting, or Agile project management methodologies in software development, some best practices are to: (1) define narrowly scoped development "sprints," (2) create feedback loops to capture your learning and (3) start sooner rather than later!
For example, consider launching a Minimum Viable Product such as a bedside-mounted tablet that gives patients in one department access to their Epic MyChart, and perhaps their Facebook account or other web applications. Patients will quickly let you know what they like and don't like, providing you the opportunity to refine and the confidence to scale up.
Amazing portals are available from companies like Oneview, Lincor, Sonifi and others that provide a much more integrated and higher quality experience for the patient. But there is no need to wait for a large, hospital-wide implementation to start improving your patients' experiences and learning your own organization's unique implementation needs. A pilot program is a great way to quickly learn what works and effectively shape a system for the long term.